Republican Senate Leader Mitch McConnell, R-Kentucky, said Wednesday he would rather see states declare bankruptcy than issue an additional $ 500 billion requested by the National Governors Association to bail out states facing lower incomes and skyrocketing debt costs.
"There will be no desire on the Republican side to bail out state pensions by borrowing money from future generations," McConnell said on the Hugh Hewitt radio show.
Gov. Ned Lamont said McConnell was taking a "let them eat the cake" approach to the effects of the economic downturn on the state's finances during his press conference on Wednesday.
Lamont said Connecticut envisions a $ 500 million deficit for this fiscal year, which ends June 30, and said 85% of that deficit is due to lower tax revenues and 15% to costs related to the state response to the pandemic that was not compensated by the Federal Emergency Management Agency.
The governor said the state has enough money to deal with the pandemic at this time. "We are in good shape throughout this exercise," said Lamont.
But states across the country face lower tax revenues and higher costs related to debt and responding to the pandemic.
"That's why states are desperate right now," Lamont said. "We are not in this position.
But, according to the Office of Fiscal Analysis, Connecticut has a permanent "structural imbalance" that will only be exasperated by the pandemic and economic recession. Namely, fixed costs were increasing faster than income.
Now, with Connecticut's revenue expected to be hit hard, this trend is only going to grow.
Connecticut currently has a $ 2.5 billion reserve fund and, according to the treasurer's office, an additional $ 1.5 billion in cash, which means Connecticut may be able to weather this recession. even without a bailout from the federal government.
The cash reserves will only serve to keep Connecticut at current budget levels, but the lost expected revenue increases will weigh heavily on the state's finances for years to come.
An OFA estimate showed Connecticut would likely need $ 3 billion over two years to keep revenues at pre-recession levels, but the long-term effect is $ 1.5 billion. lost income, while the fixed costs associated with bond payments, pensions, retiree health care and Medicaid continue to grow.
"The loss of income growth has a permanent impact on the structural imbalance, as fixed expenses continue to increase while income remains stable for three years," the OFA wrote in its report on financial responsibility. "Durable solutions will be needed to resolve this persistent problem, which cannot be solved by temporary measures such as the use of the budgetary reserve fund."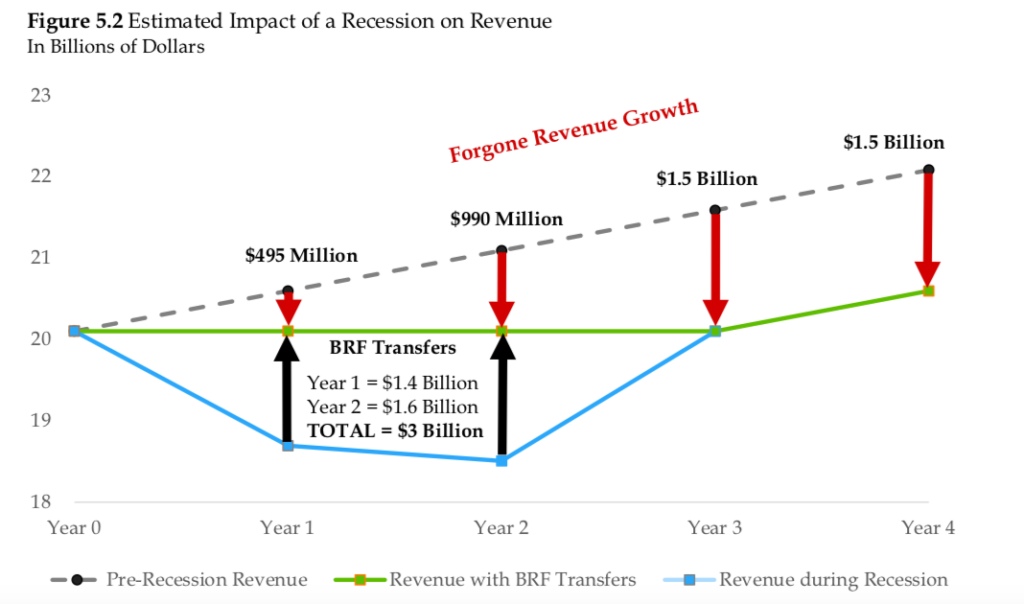 The growth in fixed costs exceeded the increase in state revenues by 2 to 1 before the pandemic and the economic downturn.
The pandemic shutdown has had multiple effects on Connecticut's finances, reducing both income tax revenue and sales tax revenue as thousands of retail stores, restaurants and d Other non-essential businesses have been shut down to enforce social distancing.
During the 2008 recession, Connecticut saw a $ 1.3 billion state income tax cut while state sales tax revenue fell only of $ 300 million.
Total revenues fell by $ 1.9 billion in one year and did not reach pre-recession levels until 2012, after Governor Dannel Malloy passed a significant tax hike in 2011.
But Connecticut faces a longer-term challenge from its underfunded pension systems, which will also be affected by the market downturn, as the 6.9% rate of return – used to secure funding. full of these pension systems – will not be achieved this year or probably. Next year.
The debt of the teachers' pension system increased from $ 6.5 billion in 2008 to $ 16.7 billion in 2018; the debt of the government employee pension system fell from $ 9.3 billion to $ 36 billion during the same period.
Connecticut currently has $ 61 billion in unfunded pension and health care liabilities, according to the state's latest assessment reports, an increase of nearly 68% over the unfunded liabilities of the state. State in 2008.
Connecticut had underfunded its pensions for decades. However, even as the state began fully funding its teachers' pensions in 2008 and its state employee pensions in 2015 – and Wall Street has seen prolonged growth – unfunded liabilities have only grown. 'to augment.
The debt of the teachers' pension system increased from $ 6.5 billion in 2008 to $ 16.7 billion in 2018; the debt of the government employee pension system fell from $ 9.3 billion to $ 36 billion during the same period.
Add to that Connecticut's bond debt, which currently stands at $ 32.9 billion, and state taxpayers envision long-term debt of over $ 100 billion and annual payments totaling $ 6.8 billion. dollars per year by 2024.

Donald Klepper-Smith, chief economist at DataCore Partners and former economic adviser to Governor Jodi Rell, says Connecticut's debt is "just not sustainable."
"Connecticut had the third highest relative debt level at 285% of source income in 2018, and that was before the coronavirus," Smith said.
"We've all had the misconception that perpetually rising debt levels don't matter," Smith said. "At some point, however, the bill comes due and we all have to live within our means. "
All of this may be easier said than done, however. Connecticut's $ 22.8 billion in state employee pension debt and $ 17 billion in retiree health care debt in Connecticut are controlled by a 2007 contract between the State Employee Bargaining Agent Coalition and the state of Connecticut.
This contract has been renegotiated several times, most recently in 2017, when unions and Governor Dannel Malloy created a new level of pensions, increased pension contributions for current employees and increased health care co-payments. for retirees to alleviate a massive government deficit.
In return, the SEBAC contract was extended until 2027 and state employees received bonuses, increases – including a 5.5% increase this year – and layoff protections until 2021.
Anything less than the return of SEBAC to the bargaining table may change the pension system until 2027, and, even if they did, they are unlikely to give in to a major restructuring. Teachers' pensions, on the other hand, are set by the legislator and can be changed by vote.
States are currently not allowed to declare bankruptcy, however, in 2016 Congress passed a law allowing Puerto Rico to effectively declare bankruptcy. This move forced a restructuring of Puerto Rico's debt and placed US territory under the control of a group of officials and financial experts.
Puerto Rico, at the time, had $ 74 billion in bond debt and $ 49 billion in unfunded pension liabilities.
We have all had the false impression that the perpetual rise in debt levels does not matter. At some point, however, the bill comes due and we all have to live within our means.

Donald Klepper-Smith, Chief Economist for DataCore Partners LLC
But there is currently no law allowing states to actually file for bankruptcy. When Illinois ran out of money in 2015 and couldn't pass a budget, it was forced to not pay vendors – and even lottery winners – for a period of time before it could recoup.
Cities – notably Detroit and Central Falls in Rhode Island – have also declared bankruptcy, forcing bond payments or retirement benefits and medical benefits for retirees to be cut.
"There isn't a single company in the state that would have entered into a lucrative employment contract with wages and benefits at the end of the longest business cycle in post-war history. , but that's exactly what the state of Connecticut did, "Smith said, calling this" the worst recession dating back to World War II. "
But, at this point, any possibility of correcting this structural imbalance is gone and the state will likely have to face some tough decisions in the years to come to make up for lost revenue and rising costs.
McConnell's comment drew condemnation from other governors whose states also face huge debt and pension issues, including New Jersey Gov. Phil Murphy.
Depending on how retirement debt is measured, New Jersey is one of the few states – along with Illinois – in a similar position to Connecticut with respect to long-term debt and non-pension liabilities. capitalized.
Notably, McConnell's Kentucky state also has one of the least well-funded pension systems in the United States, just behind Connecticut in a 2018 American Legislative Exchange Council report.